Kunshan urban ecological forest park is located in the northwest of Kunshan City, 4 kilometers away from the city center, with a total area of 3150 mu. It is a large-scale urban wetland park open to the public free of charge, with the functions of urban wetland protection and restoration, eco-tourism vacation, science and research, etc. It has been awarded the honor of National Urban Wetland Park, national science popularization education base, Kunshan's first health theme park, etc Honorary title.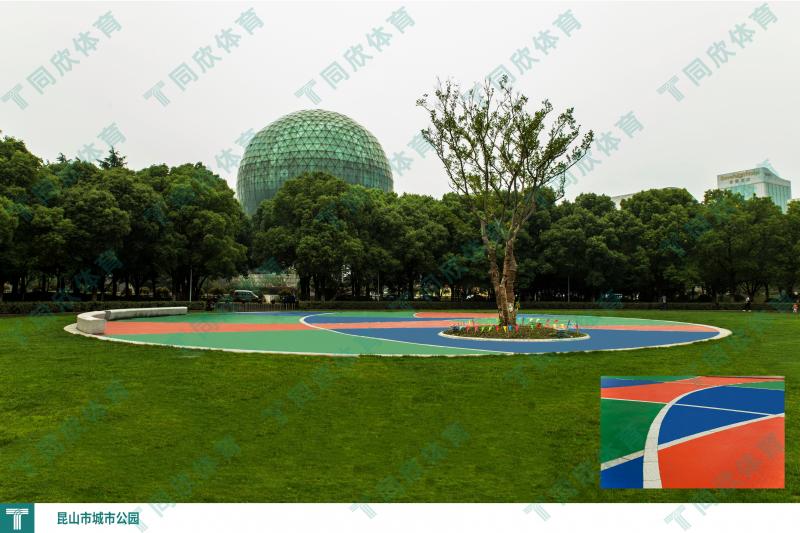 Kunshan City Ecological Forest Park, known as the city's green lung, is specially selected by our TongxinPrefabricated rubber runway •Kangbao built an environmental protection runway for the urban ecological park. Kunshan is close to Shanghai. Many office workers live in Kunshan and work in Shanghai. They commute between the two places every day, which is very stressful for some office workers. In order to relieve the pressure of the office workers and give the colleagues a happy holiday on Saturday and Sunday, Tongxin designers specially set the regular red environmental protection runway into colorful colors, Bold color matching and irregular shape give people a pleasant feeling.
Tongxin's Prefabricated rubber runway · Kangbao mainly uses environmental protection materials and raw materials. The pattern of rubber runway wear-resistant surface is pressed on the production line of the factory. Compared with the traditional plastic runway, it is more wear-resistant, safe and aging resistant, which greatly improves the friction of the foot and reduces the physical consumption when people exercise.